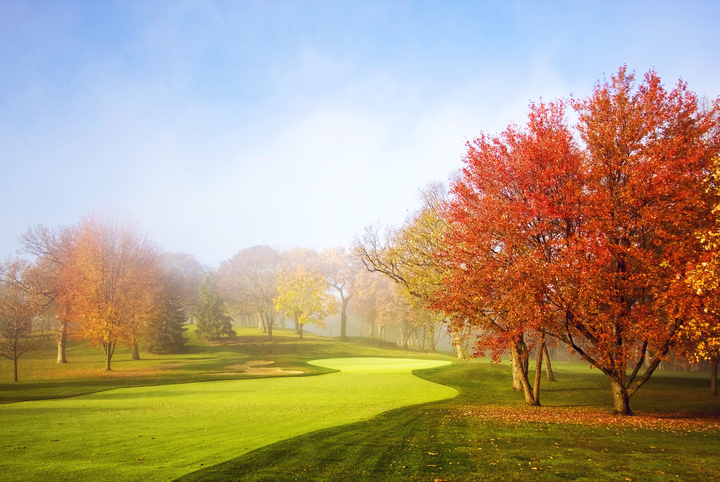 12 Nov

Thanksgiving Golf: Why You Should Schedule a Tee Time on Turkey Day

Every Thanksgiving your family gets together to share food and stories, play games, and make new memories. While it's great to be surrounded by all of the people that you love, it can get a bit crowded and overwhelming sometimes. When you and every one of your family members have a chance to spend a little time apart, it makes for a more relaxed holiday. This is just one great incentive to schedule a Thanksgiving golf outing.


There are several other reasons to golf Thanksgiving day, besides the reprieve that many families could use. One reason you should get out on a nearby golf course is that you're about to eat a lot of food. It's hard to restrain yourself from the stuffed turkey and the marshmallow covered sweet potatoes. To make up for it, put in a little exercise with a relaxing game of golf.


Another reason you should head to the course, though you likely don't need too much convincing, is because Thanksgiving day may be your last chance to play until winter is over. Once the weather gets too bad, the courses will close and you'll be confined to heated ranges and golf domes, if you're lucky to have either nearby.


With all of that in mind, here's how to fit a Thanksgiving Day golf outing into your schedule.


Make it a Quick One


Disappearing for an hour and a half isn't going to bother the family too much. Missing three hours or more for a Thanksgiving golf tournament, on the other hand, may be seen as unreasonable.


Be sure to consider travel to and from the golf courses that are open on Thanksgiving day (which may be few and far between) and take an easygoing approach while playing. In that regard, it's best if you prepare for nine holes instead of eighteen, and keep it relaxed. If you're going to have time to yourself, make it reasonable.


Play Early in the Morning


Some golf clubs have themed Thanksgiving Day golf courses or events, which may lock up the course or shut it down completely. Unless you are attending such an event, you should check that the course is open for you to play. If the golf courses near you are available, it's probably best to schedule an early tee time.


Many families like to sleep in on Thanksgiving because it is one of the few times that they can. In addition, the day before is one of America's heaviest drinking days. This not only means that you'll have time to get out without interrupting the festivities of the day, but many courses will be practically empty. That means open tee times, zero waiting between shots, and enjoying the course all to yourself.


Tee up early, get a little exercise and some fresh air, and come home in time for a midday meal. It may be a little cold, but you'll be glad you did it.


Don't Play by the Rules


Nobody is asking you to neglect the rules, but you're already planning a shorter game so you can enjoy family time and that amazing feast. Getting out on the course is better than not going at all, so you might as well take advantage of the chance to simply enjoy the good shots and shake off the bad.


While the goal is always to get the lowest score possible, take a more casual approach to the game. Roll out of divots and be more generous on the gimmes. It's alright, no one is on their "A" game when they're anticipating pumpkin pie.


Invite Friends


You're going to need to fill out the game, and likely your other friends are looking for some personal time on Thanksgiving Day as well. The relationships you have with friends are sometimes less stressful than with extended family, and golf is a great way to enjoy their company on a holiday meant to bring people together.


Golf Courses Open on Thanksgiving


Golf Thanksgiving day isn't impossible, and we strongly feel that it should become a Thanksgiving day tradition. This holiday may be a time to eat good food and spend time with family, but there is still some room to get outdoors for a while.

---
Are golf courses open on Thanksgiving? Many are. Find local golf courses and the best deals on tee times at supremegolf.com. Supreme Golf was created by golfers, for golfers, because we love this game as much as you do.