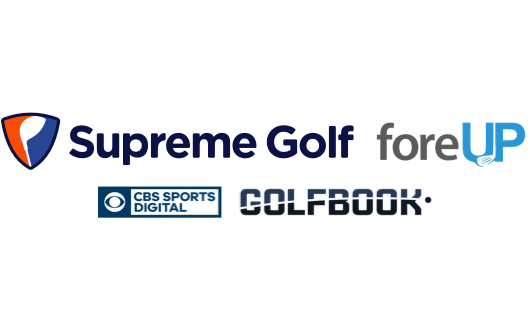 01 Oct

Supreme Golf Announces New Partnership and Equity Investment into foreUP Golf Software

Dallas, TX – Supreme Golf, the world's largest tee time booking site promoted across CBS Sports Digital platforms in association with CBS Sports Digital, today announced it has launched a new partnership and equity investment into foreUP Golf Software, the leading cloud-based tee sheet and point of sale software provider in the golf industry. Jonathan Wride, CEO of Supreme Golf, has joined foreUP's Board of Directors.

Supreme Golf's tee time marketplace provides golfers an unmatched inventory of golf courses from which to search, compare and book their golf tee times. An industry-first, Supreme Golf provides the largest single source of tee times available by aggregating leading tee time providers GolfNow, TeeOff, GolfZing, GolfBook and many more. As an unbiased and third-party neutral platform, all tee time retailers and golf courses are welcome to list their tee times on the Supreme Golf sites.

Disney World, Talking Stick, Bethpage, and Torrey Pines are just a few of over 1,200 courses who have selected foreUP and Supreme Golf's market-leading, cloud-based golf course and marketing solutions to manage their business. Software includes pro-shop, restaurant, membership, merchandise, golf lessons, revenue management and marketing. When coupled with the Supreme marketplace, business solutions, social features, on-course tools, and pricing choices, golf course operators have an unmatched solution to manage their business.

"Supreme Golf's tee time booking marketplace coupled with the industry leader in golf course software creates an unbeatable combination. We are excited to partner with foreUP as we share the belief of what is great for the golfer, must be great for the golf course and golf professional", said Jonathan Wride, CEO of Supreme Golf.

"The combination of foreUP's market leading cloud-based golf course software and Supreme Golf's marketplace and distribution offering gives advanced technology and marketing solutions to single and multi-course operators. Demand has exceeded all expectations, and we are excited to provide another option to golf course operators." said Evan Teshima, CEO of foreUP Golf Software.

The power of the world's largest tee time marketplace coupled with foreUP's state-of-the-art software makes it simple for courses to successfully manage and market their business from anywhere, on any device.
Supreme Golf and foreUP's mission is to create a mutually beneficial and sustainable partnership with golf course operators. The partnership was created to help golf courses succeed and to grow the game.

About Supreme Golf
Supreme Golf is the world's largest tee time booking site providing golfers the ability to search and book over 16 million tee times at more than 12,000 golf courses in 41 countries. In addition to a suite of world class golf course products offered by foreUP, Supreme Golf also provides golf courses a multitude of innovative products including member management, advanced consumer tools and marketing services. Supreme Golf's platforms include SupremeGolf.com, GolfBook.com, Supreme Golf iOS and Android apps, and voice enabled tee time booking platforms Alexa and Google Assistant. Supreme Golf, in association with CBS Sports Digital, is promoted across CBS Sports Digital platforms. Learn more at www.SupremeGolf.com and GolfBook.com.

About foreUP Golf Software
foreUP offers a simple, all-in-one solution to a golf course manager's most complex operational struggles. From tee sheets and point of sale to F&B and inventory, foreUP's wide array of cloud-based SaaS tools are the easy solution to the time-consuming and frustrating manual processes or one-off software solutions commonly in use at golf courses. Powerful integrations with other industry leaders mean you always have the solution you need. Learn more at foreup.com.