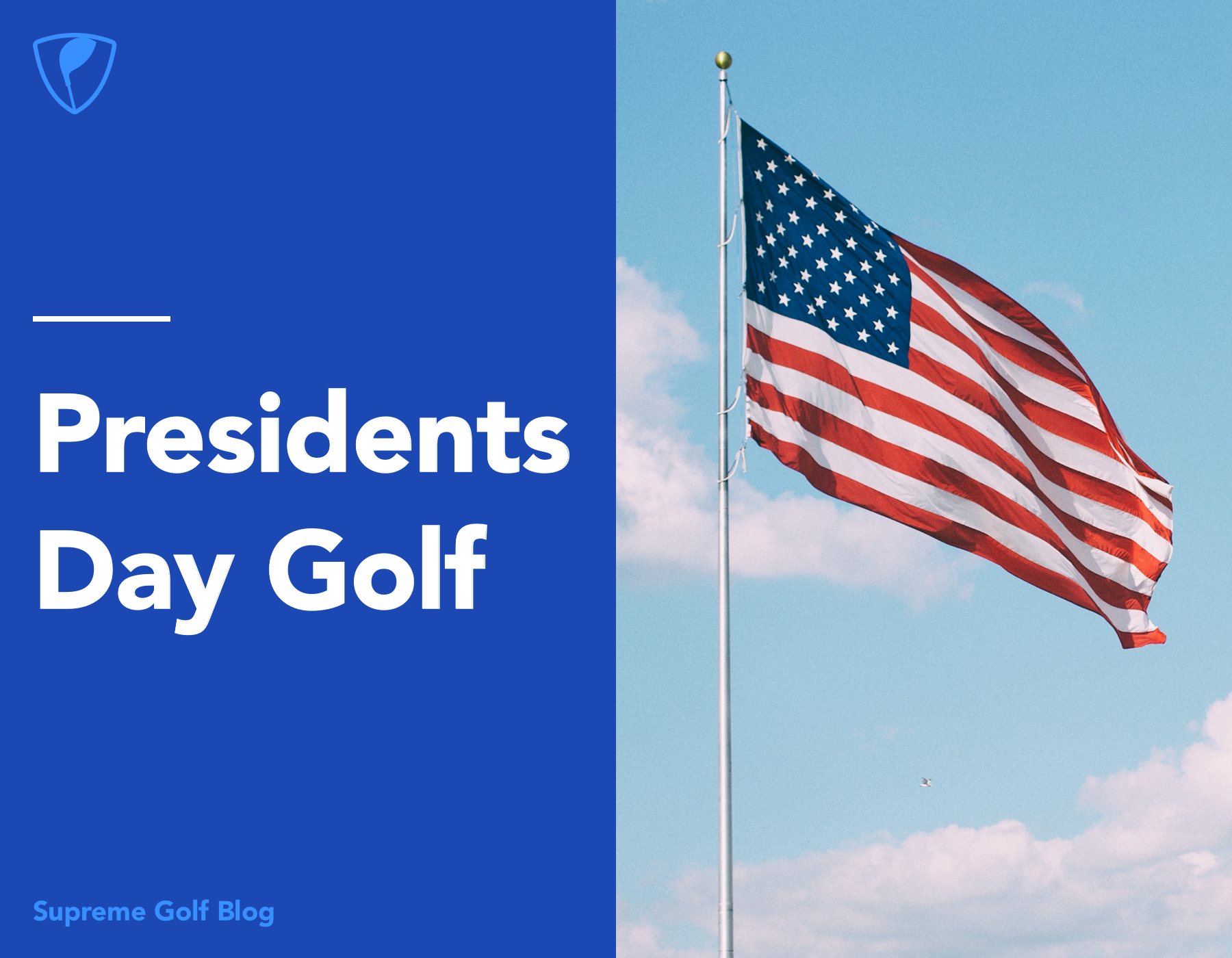 12 Feb

Presidents Day Golf: Our Nation's Leaders Who Love the Game

This President's Day, we wanted to honor some of the nation's great leaders who loved the game of golf and talk about some golf-related presidential facts.

Which President Played the Most Golf?

Woodrow Wilson

Coming in at number one, Woodrow Wilson has surpassed all past and current presidents as the most avid golfer in the Oval Office.

During his eight years in office, Woodrow Wilson reportedly played 1,200 rounds of golf. This works out to about 150 rounds per year or 2-3 rounds per week. This places him at the top of the list of presidents who love golf.

In fact, he loved golf so much that he had his golf balls painted red so he could play in all weather conditions. And he did too. Eisenhower golfed in snowstorms, rain, and during peace conferences. He was even able to get a round in before his declaration of war in World War I and golfed one-handed after burning his hand on the exhaust pipe of a fighter tank.

He famously said, "Each stroke requires your whole attention and seems the most important thing in life."

Dwight D. Eisenhower

Eisenhower reportedly played 800 rounds of golf while in office. Despite all the practice, his handicap never reached the single-digits. But he loved the game so much that he had a putting green installed on the White House lawn.

Additionally, Eisenhower had a tree named after him at Augusta National Golf Club – the home of the Masters Tournament – after he wanted the tree removed because it interfered with his golf game. Despite his distaste for the sport, he played to a 12 handicap and often broke 80.


Other Golfing Presidents

Of the last eighteen presidents, fifteen have golfed throughout their time in office. While those above are the most avid golfers, there are others of note.

● Lyndon Johnson used golf for political purposes. He used friendly matches with opponents to help pass the Civil Rights Act of 1964.

● William Harding was an avid golfer and was the first president to have a golf course named after him – TPC Harding Park, a course playable through Supreme Golf.

● Teddy Roosevelt was a regular golfer. However, he never played during his presidency.

● John F. Kennedy was reportedly a great golfer. He kept it a secret throughout his presidency due to the backlash against Eisenhower.

● Gerald Ford was a very klutzy president and an even clumsier golfer. Several times he hit spectators on the course. Despite this, his score often reached the 80s and 90s. He had a love affair with golf and was valuable in the launching of the Presidents Cup Tournament.

● Reagan was known as a great player, though he only played a dozen times during his presidency.

● George H.W. Bush is one of the most successful golfers, known for fast rounds and a low handicap. In fact, he was even inducted into the World Golf Hall of Fame. He was also a leader of the First Tee Movement and an honorary captain of the U.S. Presidents Cup team. His father was the former president of the USGA, and his grandfather established the Walker Cup.

● George W. Bush, like his father, was an avid golfer. However, he played approximately 24 times throughout his presidency. During 2003, he didn't golf at all to avoid appearing insensitive to the soldiers in Iraq.

Taft was the first president to connect golf with the presidency. And though we don't have a number, he was golfing so often that Roosevelt said he was "addicted".

Since Taft, presidents have golfed frequently to relieve stress. We should honor them for this choice. If you're going to take a break from a high-stress position, golf is a great way to do it.
---
If you're looking for your next round, Supreme Golf has you covered. We compare prices with hundreds of tee time providers and golf courses to find you the best deals on tee times. Book your next golf outing with Supreme Golf.