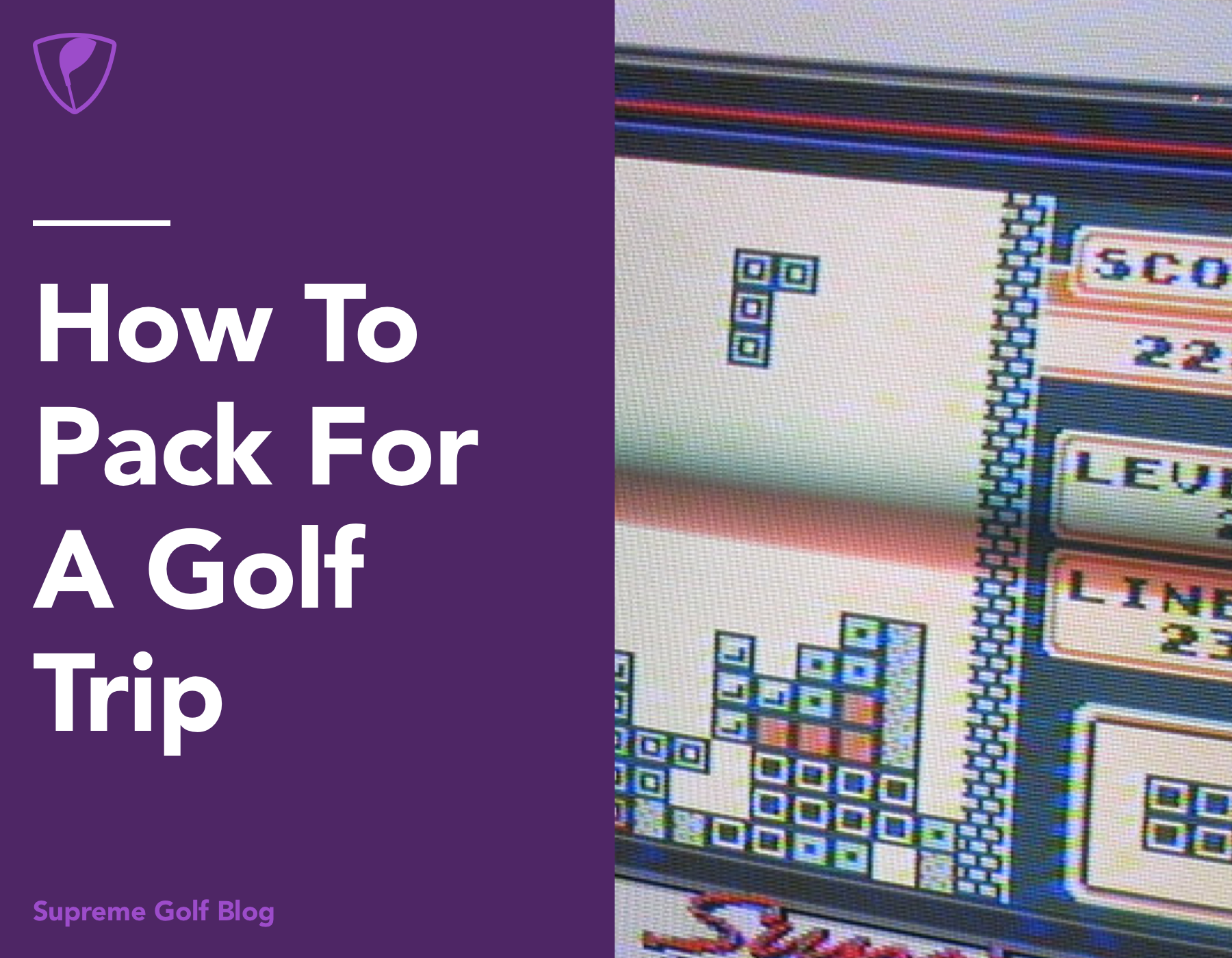 02 Mar

How To Pack For A Golf Trip

Traveling is challenging enough these days. Packing for it is another story. Traveling and knowing how to pack for a golf trip is a completely different animal altogether. So, take some expert tips from the team at Supreme Golf, and pack on. We'll help you through the really hard parts of getting prepared for a golf trip. 

First, consider where you're going. Will you need a passport? What will the weather be like there at that time of year? How many days will you be there? In addition to packing golf clubs, shoes, balls, and other gear, you have to figure out which clothes to bring. A weekend trip to Arizona is vastly different from a five-day trip to Ireland.

What to bring on a golf trip

Golf clubs and travel bag

Balls, tees, markers, and ball retriever

Golf clothes (check for course dress codes)

Golf shoes, golf towel, golf gloves

Light layers

Weather gear (hat, gloves, and raincoat or sunscreen, sunglasses, and cap)

Snacks, meds, adhesive bandages, water bottle, and personal items

Clothes for evening

Shoes for walking and/or dress shoes

Passport (if necessary)

Electronics (cell phone, range finder/GPS device, and chargers)

Money (foreign currency if needed)

Leverage – get the most out of every item

After you determine the number of days you'll be golfing, determine the number of holes you'll be playing each day.

If you're traveling overseas, you don't want to be an over-packer. It will only slow you down as you move from one city and hotel to another. Go with simple colors that work together and fabrics that layer easily. If cold and/or wet weather will be a factor, a compression shirt base layer is a must, along with a warm hat and traveling gloves or even gloves. Some sweaters are big suitcase hogs, opt for innovative new sports fabrics instead. You can't go wrong with an extra pair of waterproof golf shoes and socks too.

You'll need a pair of walking shoes, perhaps they could double as dress shoes for dinners at nicer restaurants. A pair of ordinary flip flops will slip into most any golf travel bag, and depending upon where you are in the world, they just might be your go-to for an indoor pool or sandy beach.

Pack a few zip-close plastic bags too. They're great for organizing outfits and can perform double duty if your clothes get wet from sweat or rain. And regardless of the forecast, pack the rain gear, umbrella, rain gloves, sunscreen, sunglasses, and hat.

Do the important stuff first

Book your tee times before you leave home. Download the Supreme Golf app and you'll get access to the best tee times almost anywhere in the world. And check to be sure you have enough golf balls, gloves, tees, insect repellent, pain killers, muscle salve, a backup battery for your range finder, and the like.

Don't forget the electronics

It's supposed to be a trip where you unplug, but you still need to be able to charge your phone, etc. Bring a charger that plugs into a car; if you're traveling overseas, a plug converter is a must. Odds are that at some point, no matter how good a planner you are, you will be desperate for a cell phone charge. Always pack a power bank. They're small, lightweight, and invaluable when you're traveling.

And some cash

It's always wise to keep some cash on hand, wherever you travel. Single dollar bills are especially handy for tipping shuttle drivers, club cleaners and the like. If you're traveling overseas, convert some cash before you leave. The exchange rate at your local bank is probably better than using a currency exchange kiosk at the airport. Many of the big banks do not even charge a fee and will offer to mail you the currency or conduct the transaction online. Consider using traveler's checks. If you're planning to use your credit card(s), let your credit card companies know in advance where you'll be traveling. Many a traveler has been in the awkward moment of trying to purchase something only to have the charge denied because the credit card company suspected fraudulent use.

Before you head out on your next golf trip, make sure you book your tee times on Supreme Golf, where you'll find the best tee time at the right price.