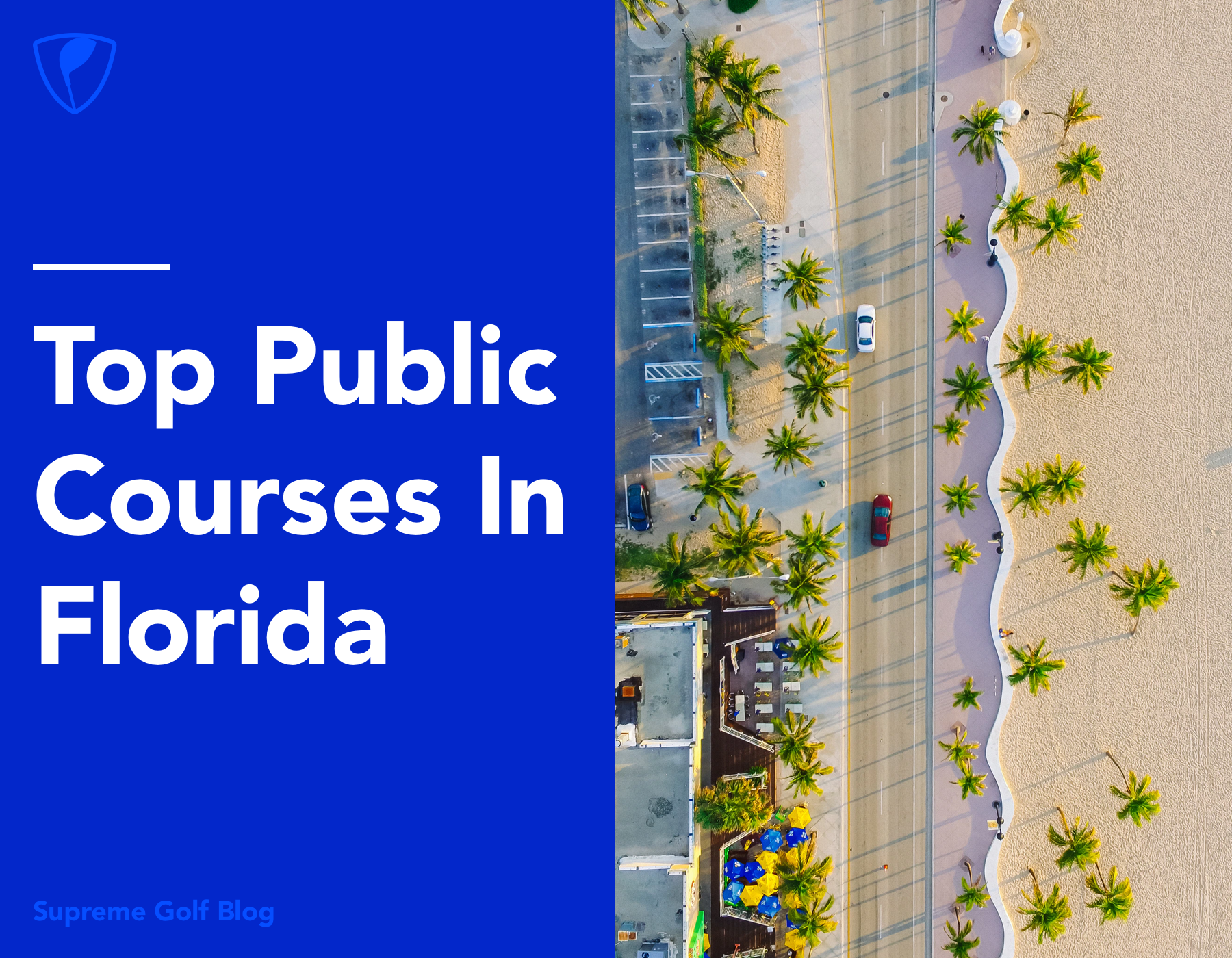 09 Mar

Top Public Courses In Florida

In all of America, which state has the most golf courses? If you guessed Florida, you'd be right! The Sunshine State boasts more than 1,250 – and many Florida public golf courses are ranked among the best.


As for the weather, Florida has it hands down. You don't need to worry about snow on the fairways because the tropical conditions make golf a year-round sport here. Then, there's the wildlife to consider (not that kind of wildlife … we're talking snowy egrets, ibises, cormorants, and more). Not to mention the scenery. Imagine yourself driving that little white ball around while you're overlooking the ocean. For a glimpse at some of the best public golf courses in Florida, read on. For exclusive access to the largest selection of tee times in the world, download the Supreme Golf app.

Disney's Lake Buena Vista Golf Course
Near the Disney Springs Marketplace sits the impressive Disney's Lake Buena Vista Golf Course. This classic country-club style course winds past pine forests, palmetto trees, villas, and sparkling lakes. A host of the PGA Tour, LPGA Tour, and USGA events, Disney's Lake Buena Vista course is certified by Audubon International as a Cooperative Wildlife Sanctuary and rated four stars by Golf Digest. Conceived by Joe Lee, it features elevated bunkered greens that reward accurate approach shots. The #7, perhaps the most demanding hole, offers a challenging island green.
Disney's Magnolia Golf Course
Disney's Magnolia Golf Course is about as close to the Magic Kingdom as you can get in a golf cart. The longest of all Walt Disney World® Resort golf courses, its design is a classic Tour style. Majestic magnolia trees, elevated tees, generous greens and water hazards await. Of the 18 holes, 11 boast water hazards, not to mention 97 bunkers peppering the course. Certified by Audubon International as a Cooperative Wildlife Sanctuary and rated four stars by Golf Digest, it's a paradise for serious golfers and an exhilarating test for players at all levels.
Disney's Palm Golf Course
Disney's Palm Golf Course at Walt Disney World Resort features shimmering lakes, tropical sands, palm trees, and sloping greens. This 18-hole championship course offers a fair test for golfers of all skill levels. Recently redesigned by Arnold Palmer Design Company, the enhancements include entirely new green complexes, newly shaped tees, and a new bunker design. This historic course sits proudly amid the natural beauty of the Florida woodlands and offers 9 holes with water hazards and 59 bunkers. No matter how you slice it, that's enough challenges for novices and seasoned pros alike.
The Links at Spruce Creek
About 15 miles southeast of Ocala sits The Links at Spruce Creek. This original Terry Doss course design is equipped with stunning scenery, rolling greens, and long par 4s that make for the perfect golfing experience. The Links Club at Spruce Creek South puts golfers of all levels to the test on well-manicured 18 holes. The front nine (known as "The Links") is challenging with many hole designs nestled between grand old oaks. The back nine (known as "The Spruce") is reminiscent of classic course design with rolling fairways and undulating greens.
Orange County National, Crooked Cat
Orlando's Crooked Cat golf course is one of the most naturally beautiful courses in the state. It offers a links-style look with dramatic elevation changes, rolling fairways and large greens but fewer trees, wider landing areas, and mounding framing the fairways. The course's open feel encourages golfers to rip it off the tee. Gamblers and scramblers do well here, as do shot makers. Low handicap golfers favorite the back-nine due to its length and challenge. Crooked Cat is fun to play, and thanks to its unique design, you'll never play a hole the same way twice.
Hollywood Beach Golf Club
Just south of Fort Lauderdale you'll find the scenic Hollywood Beach Golf Club. The old-world design lets you focus on your golf game and forget the daily grind you left behind. Lushly landscaped with narrow fairways, water hazards, and strategically placed bunkers, it gives golfers of all levels a fair test of their abilities. This championship 18-hole, par-70 course was designed by renowned architect Donald Ross in 1924. Since then, it's been one of the few South Florida public golf facilities to offer a golf experience that feels private and serene.
Bardmoor Golf and Tennis Club
Bardmoor Golf and Tennis Club is rated one of the state's premier golf courses, and it's just a few minutes from Tampa's best beaches. Host club to both PGA and LGPA Tour events, Bardmoor's broad fairways, glistening water, and abundant sunshine beckon players of all levels. In fact, Arnold Palmer, Payne Stewart, Fred Couples, and Tom Kite have all played here. You'll find excellent conditions, some elevation changes, plenty of holes with character, good sightlines on the fairways, and many well-tended pine trees. One of the most popular holes is the par-5 #16. A practice facility is also available.
Bent Tree Country Club
Sarasota's Bent Tree Country Club is home to tree-lined fairways with towering oaks, expansive greens, and miles of lakes and streams creating a tranquil setting for championship golf. The par-72 course provides a thorough test for the exacting golfer, as well as forgiving those with higher handicaps. Bent Tree believes in the long-forgotten traditions of the game, like walking to enjoy your round. Signature holes include the #3 hole requiring a 185-yard tee shot to carry over water, and the 511-yard #9 featuring a double dogleg with water and a three-tiered green. (The back-nine is even tougher!)
Northdale Golf & Tennis Club
Tampa Bay's Northdale Golf & Tennis Club offers an award-winning championship course designed by legendary golf course architect Ron Garl. The unspoiled native terrain of this former dairy farm is punctuated by Cypress trees and crystalline spring-fed lakes, all home to a host of native birds. The 18-hole, par-72 classic layout has lush, wide-open fairways, and large inviting greens, setting the stage for a challenging and memorable round of golf for players of all skill levels. Signature holes include #1, #2, #5, and #16 with water on every shot.
Orange County National, Panther Lake
Orlando's Orange County National, Panther Lake is everything golfers want in a course. Rolling meadows, native pines, wetlands, lakes, and elevation changes of up to 60 feet. It's a visual delight, and a reminder of why golfers play, and how they decide which course to play. Every hole is unique and requires something different from your shot-making repertoire. No two holes