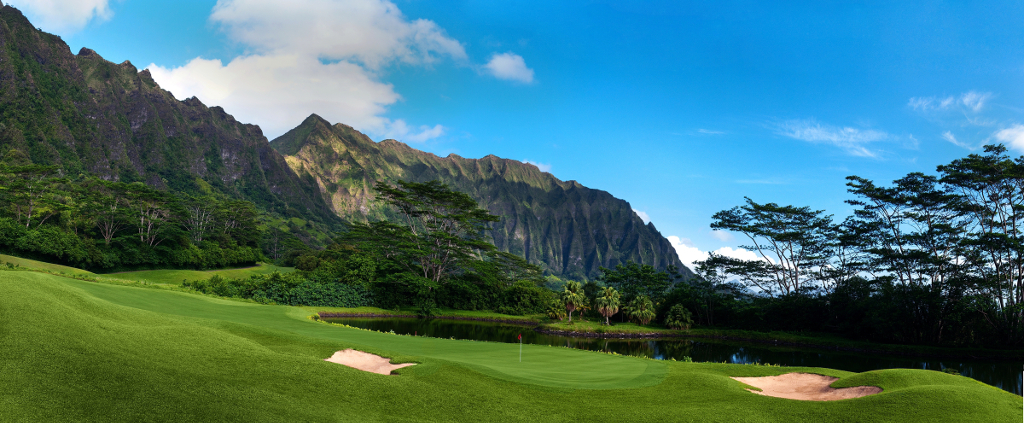 03 Dec

Course Feature: Ko'olau Golf Club

Highly acclaimed for its scenic views of Hawaiian terrain and world­-renowned for its difficulty, Ko'olau Golf Club can be easily played when using Supreme Golf .Located in Kaneohe, on the island of Oahu, this par-72, 7,310-yard course will not only wow golfers with its scenery but will put their skills to the test. Ko'olau was rated as one of the toughest courses in the world by Golf Digest in 2012 at No. 25, a drop from Golf Digest's ranking of No.3 in 2007. More recently, the course landed at No. 15 on Golf Digest's Top Courses in Hawaii from 2017-2018.

Ko'olau Golf Club starts strong and ends strong with a par-5 first hole and a par-4 18th – holes that are worth seeing to believe.

From the first tee, Golfer's are given great views of the ocean but must conquer a hole that doglegs left and is surrounded by jungle on both sides of the fairway. After hitting the fairway, the green is surrounded by bunkers on all sides to make an approach shot anything but easy.

The course wraps up play with an 18th-hole that is as beautiful as it is challenging. This par-4 478-yard hole forces golfers to hit their tee shots over a giant ravine and then face deep bunkers around the green. With its current layout, Ko'olau is well-established as one of the most challenging holes in the world.
Getting out to play at this stunning course is made easy thanks to Supreme Golf. Supreme Golf offers competitive tee times with special rates running as low as $80 per golfer and other prices at $120 per player. Grab your sticks and enjoy all Ko'olau Golf Club has to offer thanks to Supreme Golf. #FindYourGame